Elements with tag
Agriculture Plant protection


Tendrá lugar: 18, 24 y 25 de abril de 2018. Salón de Actos del CITA. Avda. Montañana 930, en Zaragoza. Horario: 15:30-19:30. Inscripción previa en sjfuertes@aragon.es
Patrocinado por: FEDER, Gobierno de Aragón, Departamento de Desarrollo Rural y Sostenibilidad, Programa de Desarrollo Rural de Aragón 2014-2020. Servicio de Sanidad Animal y Vegetal. Centro de Sanidad y Certificación Vegetal.
Course on IDENTIFICATION AND HANDLING OF WEEDS IN THE MAIN CROPS OF ARAGON.
The course (in Spanish) will cover: Monocotyledonous and dicotyledonous weeds. Weeds according to season and crop: Identification and management. What do weeds tell us? Practical cases.
Coordinator: Santiago Fuertes Lázaro (CSCV). Member of PROVESOS. Teachers: C. Zaragoza, G. Pardo, A. Marí, A. Cirujeda, (CITA), J. Aibar (UniZar). Members of PROVESOS.
It will take place on: April 18, 24 and 25, 2018. Assembly Hall of the CITA. Avda. Montañana 930, in Zaragoza, Spain. Hours: 15: 30-19: 30. Previous registration at sjfuertes@aragon.es
Sponsored by: FEDER, Government of Aragon, Department of Rural Development and Sustainability (Rural Development Program of Aragon 2014-2020). Animal and Plant Protection Service. Plant Protection and Certification Center.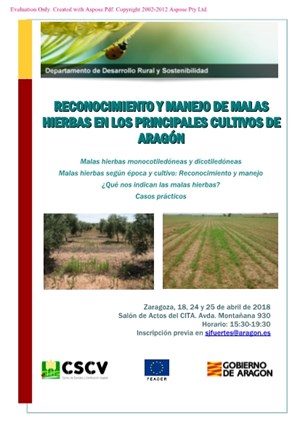 The threat of bacterial diseases

Bacteria do not recognize borders and the globalization of the current world, together with the possible effects of climate change, confront phytopathology to the challenge of new emerging diseases. The basic principle for the control of bacteria diseases is the adoption of effective measures to prevent the spread of pathogens and the development of diseases. For this it is essential to have detection and identification methods that are quick, sensitive and specific. The increasing availability of genome sequences will allow the design of PCR primers specific to unique regions of a given bacterial species. In any case, detection techniques continue to encounter an important obstacle, which is that of latent infections and asymptomatic plants. Read more (In Spanish) in the document and the attached link.